Another awareness based use of QR-Codes, The Big Wild have placed QR-Codes on posters for users to scan with the intention of raising awareness for a petition to protect the Flathead River and Restigouche Watershed.
Boasting as the first environmental group to adopt QR-Codes, Darren Barefoot of The Big Wild hopes to generate interest with what some people class as a rarely used technology.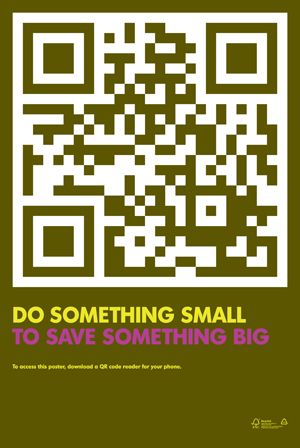 Once scanned, the QR-Code takes you to a webpage focused on the Flathead River Valley. For non-Canadians, the Flathead River Valley is a large swath of wilderness.
Billboards, magazines and posters certainly seem to be where QR-Codes are used most. For such a small advertorial space, a QR-Code can generate interest beyond the marketing message itself, which is a dream to anyone in the industry. What's better, if you track your QR-Code scans you get quantifiable statistics which can say a thousand words.
Get a Reader
Want to see what the fuss is about? Get a QR-Code reader today and scan the experience.